The 10/66 Caregiver Education and Training Intervention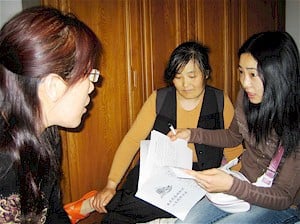 'Helping the carer to care' The community healthworker advising a caregiver in Xicheng, China
The 10/66 intervention was developed in India (for use by multi-purpose health workers), but with input from the wider 10/66 group including developed country experts. It targets the main carer, but includes members of the extended family. The aim is to provide basic education about dementia and specific training on managing problem behaviours. The three simple, manualised modules are delivered over five, weekly, half hour sessions.
Module 1. Assessment - 1 session. a) Cognitive/ functional impairment b) Carer's knowledge and understanding of dementia. c) Care arrangements (Who are the family members? Who lives with the person with dementia? How do they assist the main carer? Which behavioural problems present most difficulties? How burdened do they feel?).
Module 2. Basic education - 2 sessions. a) general introduction to the illness. b) what to expect in the future c) What causes/ does not cause dementia? d) locally available care and treatment.
Module 3. Training on problem behaviours - 2 sessions. Problem behaviours identified in the assessment are addressed (personal hygiene, dressing, incontinence, repeated questioning, clinging, aggression, wandering, apathy).
After extensive piloting the intervention is now supported by a structured, manualised two day training program for MPHWs comprising a) basic knowledge about dementia, b) assessment skills, c) basic counselling skills and d) role playing of intervention scenarios.
The manualised intervention, and the training package can be downloaded from the resources section