Developed/Developing Country Differences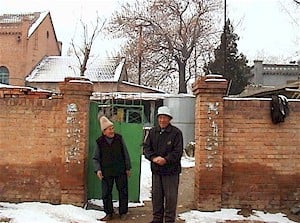 A winter morning in Daxing, rural China
Prevalence of dementia is lower in developing countries than in the developed north (1), strikingly so in some studies (2,3). ADI's expert consensus panel, reviewing all available evidence, confirmed this trend (4), which seems not to be explained by differences in survival (5,6). There are several possible explanations
Dementia, particularly in the early stages may be under-detected because of difficulties in establishing the criterion of social/ occupational impairment.
Differences in levels of exposure to environmental risk factors may also have contributed, with low levels of cardiovascular risk (7) and hyperlipidaemia (8,9) in some developing countries. However, other potential risk exposures will be more prevalent in LAMIC, for example

low education
anaemia, which was found to be associated with AD in rural India (10).
dietary deficiencies, which are widespread and strongly linked to poverty. Deficiencies of folate and vitamin B12 are of particular interest given their consequences; anaemia, neuropathy, hyperhomocysteinaemia (11), increased risk of stroke and ischaemic heart disease (12). Vitamin B12 deficiency is strikingly prevalent (> 40%) across Latin America (12-14), linked to gastrointestinal infections and diets deficient in meat and dairy produce (13). Folate deficiency is endemic in those living in poverty (14), and after economic crisis (15). Diets deficient in legumes may also have contributed. Micronutrient deficiency is probably more prevalent in the elderly but there are few data on this age group (13). Iodine deficiency has also been a major public health problem in most Latin American countries (16). Iodized salt is now generally available but iodine content is poorly regulated (16). A prevalence of sub-clinical hypothyroidism of 16.1% was reported among post-menopausal Brazilian women (17).

High infant mortality may contribute to population differences in dementia frequency; constitutional and genetic factors that confer survival advantage in early years may protect against neurodegeneration or delay its clinical manifestations. According to this model, current dementia prevalence in developing countries would correlate inversely with infant mortality at the time that those at risk were born. In 1948, infant mortality in the UK was 38/1000 live births compared with 207 in Nigeria, 195 in China and 190/1000 in India. Infant mortality in Latin America varied from 40/1000 in Cuba, to 70 in Argentina, 81 in the Dominican Republic, 98 in Venezuela, 102 in Mexico, 109 in Peru and 135/ 1000 in Brazil. (18). It seems plausible that as patterns of morbidity and mortality converge with those of the developed west, then dementia prevalence will do likewise (19).
The 10/66 Dementia Research Group. Methodological issues in population-based research into dementia in developing countries. A position paper from the 10/66 Dementia Research Group. International Journal of Geriatric Psychiatry 2000;15:21-30.
Chandra V, Ganguli M, Pandav R, Johnston J, Belle S, DeKosky ST. Prevalence of Alzheimer's disease and other dementias in rural India. The Indo-US study. Neurology 1998;51:1000-1008.
Hendrie HC, Osuntokun BO, Hall KS, et al. Prevalence of Alzheimer's disease and dementia in two communities: Nigerian Africans and African Americans. Am J Psychiatry 1995;152:1485-1492.
Ferri CP, Prince M, Brayne C, et al. Global prevalence of dementia: a Delphi consensus study. Lancet 2005 Dec 17;366:2112-2117.
Hendrie HC, Ogunniyi A, Hall KS, et al. Incidence of dementia and Alzheimer disease in 2 communities: Yoruba residing in Ibadan, Nigeria, and African Americans residing in Indianapolis, Indiana. JAMA 2001 Feb 14;285:739-747.
Chandra V, Pandav R, Dodge HH, et al. Incidence of Alzheimer's disease in a rural community in India: the Indo-US study. Neurology 2001 Sep 25;57:985-989.
Hendrie HC, Hall KS, Ogunniyi A, Gao S. Alzheimer's disease, genes, and environment: the value of international studies. Can J Psychiatry 2004 Feb;49:92-99.
Breteler MM, Bots ML, Ott A, Hofman A. Risk factors for vascular disease and dementia. [Review] [57 refs]. Haemostasis 28(3-4):167-73, 1998 May;-Aug.
Chandra V, Pandav R. Gene-Environment Interaction in Alzheimer's Disease: A Potential Role for Cholesterol., 17 ed 1998:225-232.
Pandav RS, Chandra V, Dodge HH, DeKosky ST, Ganguli M. Hemoglobin levels and Alzheimer disease: an epidemiologic study in India. American Journal of Geriatric Psychiatry 12(5):523-6, 2004 Sep;-Oct.
Selhub J, Jacques PF, Wilson PW, Rush D, Rosenberg IH. Vitamin status and intake as primary determinants of homocysteinemia in an elderly population. JAMA 1993 Dec 8;270:2693-2698.
Robinson K, Arheart K, Refsum H, et al. Low circulating folate and vitamin B6 concentrations: risk factors for stroke, peripheral vascular disease, and coronary artery disease. European COMAC Group. Circulation 1998 Feb 10;97:437-443.
Allen LH. Folate and vitamin B12 status in the Americas. Nutr Rev 2004 Jun;62:S29-S33.
Garcia-Casal MN, Osorio C, Landaeta M, et al. High prevalence of folic acid and vitamin B12 deficiencies in infants, children, adolescents and pregnant women in Venezuela. Eur J Clin Nutr 2005 Sep;59:1064-1070.
Arnaud J, Fleites-Mestre P, Chassagne M, et al. Vitamin B intake and status in healthy Havanan men, 2 years after the Cuban neuropathy epidemic. Br J Nutr 2001 Jun;85:741-748.
Pretell EA, Delange F, Hostalek U, et al. Iodine nutrition improves in Latin America. Thyroid 2004 Aug;14:590-599.
Petri Nahas EA, Nahas-Neto J, Ferreira Santos PEM, et al. Prevalence of subclinical hypothyroidism and its effects on lipidic profile and bone mineral density in postmenopausal women., 27 ed 2005.
UN Statistics Division. UN Statistics Division Demographic and Social Statistics. New York: United Nations; 1948.
McGee MA, Brayne C. The impact on prevalence of dementia in the oldest age groups of differential mortality patterns: a deterministic approach. International Journal of Epidemiology 27(1):87-90, 1998 Feb.